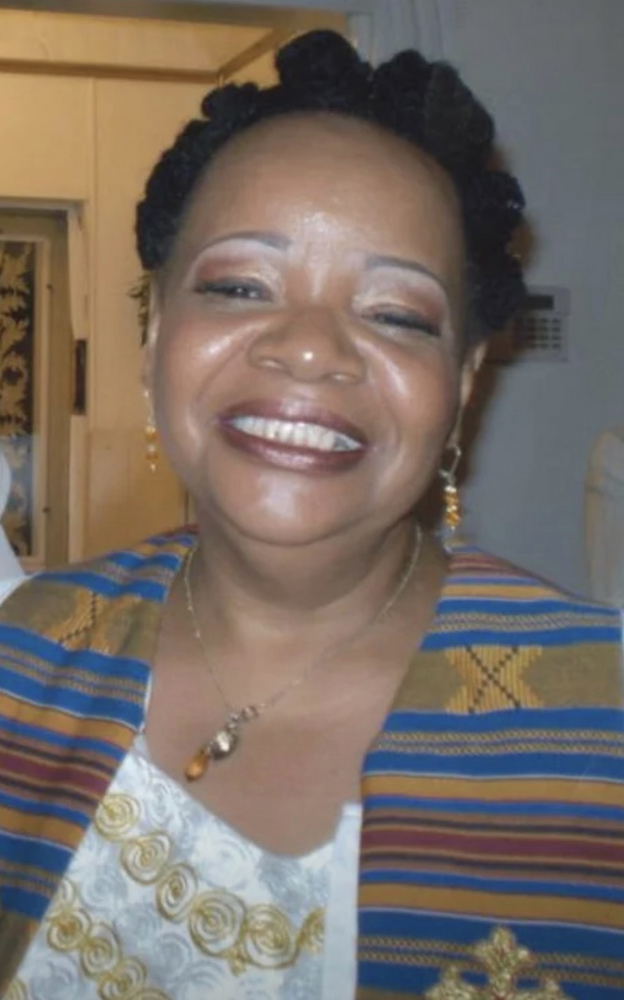 Obituary of Rev. Dr. Valerie F. Byrd
OBITUARY Reverend Dr. Valerie Andrews March 27, 1949 - May 15, 2023 Reverend Dr. Valerie Andrews known to those who held her dear as "Valerie" or "Tamar Speaks!," was born on March 27, 1949 in the area of Bedford Stuyvesant, Brooklyn to her late parents Arline Byrd and Gus Andrews. Valerie is the second oldest of seven children and the mother of four with her daughter Tammy Byrd preceding her in death as an infant. She was a loving grandmother, great grandmother, and aunt not only to her blood relatives, but others seeking her out for love, guidance, and encouragement. Rev. Dr. Andrews was a licensed ordained Baptist minister who dedicated her whole life to the healing of the African American community. She recieved her Doctorate of Ministry in Pastoral Care & Counseling and masters degree in Divinity from the United Theological Seminary, and a bachelors of science from Adelphi University. All of which led up to her having the knowledge and courage to create an impactful ministry- Survivors of childhood sexual abuse, as it manifests trauma in African American Women-"Tamar Speaks!" Valerie began her calling as a social worker where she proudly served her New York City clients who suffered from drug addiction, child abuse, domestic violence, and homelessness. Rev. Dr. Andrews actively ministered tirelessly in the areas of foster care and childhood adoption. She also worked as an adjunct professor at The College of New Rochelle where she taught her students to examine the role of the Black Church and Blacks in the Bible. However, during this journey, she saw a greater need in the area of childhood sexual abuse and the trauma it causes in adult women. Thus, she birthed and became CEO of her ministry "Tamar Speaks!" This ministry was guided by her dissertation research which has its roots in the Bible. "Tamar Speaks!" Is a Holistic Healing Ministry for African American Women who are Survivors of Childhood Sexual Abuse is published in a research journal. The remainder of her life's work was committed to helping others heal from the trauma of sexual abuse from their past. Rev. Dr. Andrews research was highlighted in Essence Magazine in 1998. In addition, she was featured on community radio talk shows at Medgar Evers College and the University of the City of New York, where she discussed the impact of childhood sexual abuse. Furthermore, Rev. Dr. Andrews led a discussion on the pastoral and spiritual needs of survivors of childhood sexual abuses for Connect and was featured on Access Television, 2008. She passionately advocated for the lawmakers change policies around sexual abuse issues and was published in several newspaper articles. Rev. Dr. Andrews eagerly sponsored workshops, conferences, and participated in panel discussions and storytelling, in both the religious and secular communities. Her love and passion for the healing of the community led her to receive additional training and certification in psychoanalysis, traumatized children, youth, spirituality, and post-traumatic stress. Over the years, she has received several awards for her work in her ministry. Valerie loved African Art, music, cooking, and good hearty laugh. She also loved being admired by family, friends and strangers. Valerie stood out in a crowd with her crown adorned with beautiful cowry shells and in purple regalia. Purple was her favorite color because it is a representation of royalty. She wore it proudly as she willfully served others in the community. She will be missed and remembered by all her friends and especially her family; Aunt Jayne Moody, Uncle Timothy Moody and her siblings; Janet Byrd-Clinton, Carol Byrd, Brenda Ingram, James O. Harris, Jr., Cynthia Harris-Frederick, Sheila A. Harris; Brothers in law; Henry Louis Clinton and Bradford J. Frederick, children; Antionette Byrd, Tonya Byrd, Tammy Byrd (deceased) and Tiaheem Byrd; Grand children; Serina, Alexis, Angelique, and Jerell. Great Grandson Alexander; Nieces; Crystal, Wakima, Yolnika, Kendrick, Mark (deceased), Jasmine, Christopher, John Paul,Elijah Wallace and a host of cousins, grand nieces and nephews. Rev. Dr. Valerie Andrews will be remembered fondly by members of her church, ministry, and the community.
To send flowers to the family or plant a tree in memory of Rev. Dr. Valerie Byrd, please visit Tribute Store
Visitation
12:00 pm - 1:00 pm
Wednesday, May 31, 2023
St. Albans Congregational Church
172-17 Linden Blvd.
St. Albans, New York, United States
Funeral Service
1:00 pm
Wednesday, May 31, 2023
St. Albans Congregational Church
172-17 Linden Blvd.
St. Albans, New York, United States
Repass
St. Albans Congregational Church 172-17 Linden Blvd. St. Albans, NY 11434 Immediately following service.
Share Your Memory of
Rev. Dr. Valerie
Undertaking Alternatives, Inc. - Phone: (631) 413-9664 | Email: families@undertakingstaff.com
We serve the following areas : SUFFOLK, NASSAU, QUEENS, BROOKLYN, BRONX, MANHATTAN and STATEN ISLAND